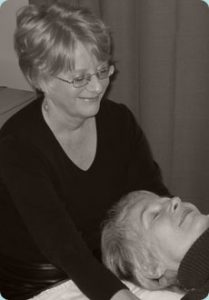 I'm a West Coast gal, born and raised in Victoria. After studying English Literature and Philosophy (and all kinds of other interesting subjects) at the University of Victoria, I went to Sutherland-Chan School and Teaching Clinic in Toronto and became a Registered Massage Therapist in 1985. I worked in Toronto for a while, but came back to Victoria in 1986.
I took my first Jin Shin Do acupressure course in 1990 and have been dabbling in it ever since. I continue to study the art of acupressure and my most recent course was the Acupressure Facial. My clients love this! I offer a session in which I do half massage therapy and half acupressure facial points. It's an energizing combination!
As well as bodywork, I have a great interest in communication and counselling skills. I have been studying Marshall Rosenberg's Nonviolent Communication since 2002. This has really helped me to be more empathetic and has contributed to my excellent listening skills.  My massage clients appreciate really feeling heard when they come for a treatment.